FASHION DESIGNER
Aheda Zanetti's & the Burqini
Inspired by her niece struggling to play netball with her sports uniform worn over her religious clothing, Aheda felt a need to create modest swimwear to go with with Australian beach and sporting culture. It just so happened that the burqini is sun safe too.
A Burquini story
Aheda Zanetti – Inventor of the Burkini
Aheda and her family moved to Sydney from Lebanon when she was two years old.
Like many Muslim women in the west, Aheda wanted to adhere to Islamic clothing norms while also keeping up with Western fashion – especially when it came to activewear and modest swimwear. It was after watching her niece struggle to play netball with her sporting uniform on top of her religious clothing that an idea came to Aheda. She was going to create a garment that combined Islamic modesty with Australian beach and sporting culture.
The burqini was born
After many months perfecting her designs, Aheda unveiled the hijood and the burkini. Both garments, the hijood for sportswear and the burkini for swimwear, allowed Muslim girls to participate in activities at a level they may not have previously been able to.
The burkini has found an audience beyond the Muslim community, and while some people have controversial opinions about the burkini, it can't be denied that it has given many girls and women access to sports and experiences they would have otherwise avoided due to health, religious or body image concerns.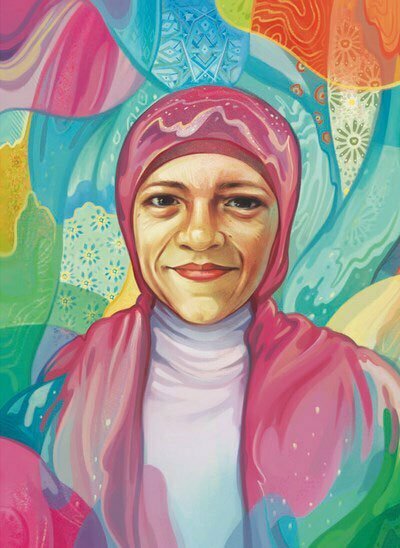 Painting of Aheda by Sarah Boese for the book "Shout Out To The Girls" now available on Amazon Australia and Booktopia. Royalties from the sale of this book go to The Smith Family – a children in need charity.